Find out about six areas of action the company is developing to reduce CO2 emissions at its mills.
Steel is ubiquitous, present everywhere in our daily lives, from household items in our homes, to transport, energy production and healthcare, to mention just a few areas. Almost everything today is either made from steel or with steel equipment. Today, the steel industry accounts for some 7% of the world's direct carbon emissions.
According to Ternium's 2021 Sustainability Report, the intensity of the company's global direct CO2 emissions was 1.7 tons per ton of crude steel produced, placing it below the average emissions intensity for the steel industry as a whole. The company has set itself the goal of achieving a 20% reduction in CO2 emissions by 2030, and over the last five years, it has rolled out a USD 292 million-dollar investment program in environmental projects as well as putting USD 38 million directly into energy efficiency programs at its facilities.
In 2021, Ternium was recognized for the fourth consecutive year as a Sustainability Champion by the World Steel Association (worldsteel). The company also placed in the 90th percentile in the iron and steel manufacturing industry ranking, according to the latest annual ESG ratings issued by global business sustainability benchmark, EcoVadis, in recognition of the company's policies and actions in favor of sustainable practices.
From innovative steel manufacturing technologies to using biomethane drawn from urban solid waste as a way of reducing natural gas consumption, these are some of the actions Ternium is taking on its decarbonization route: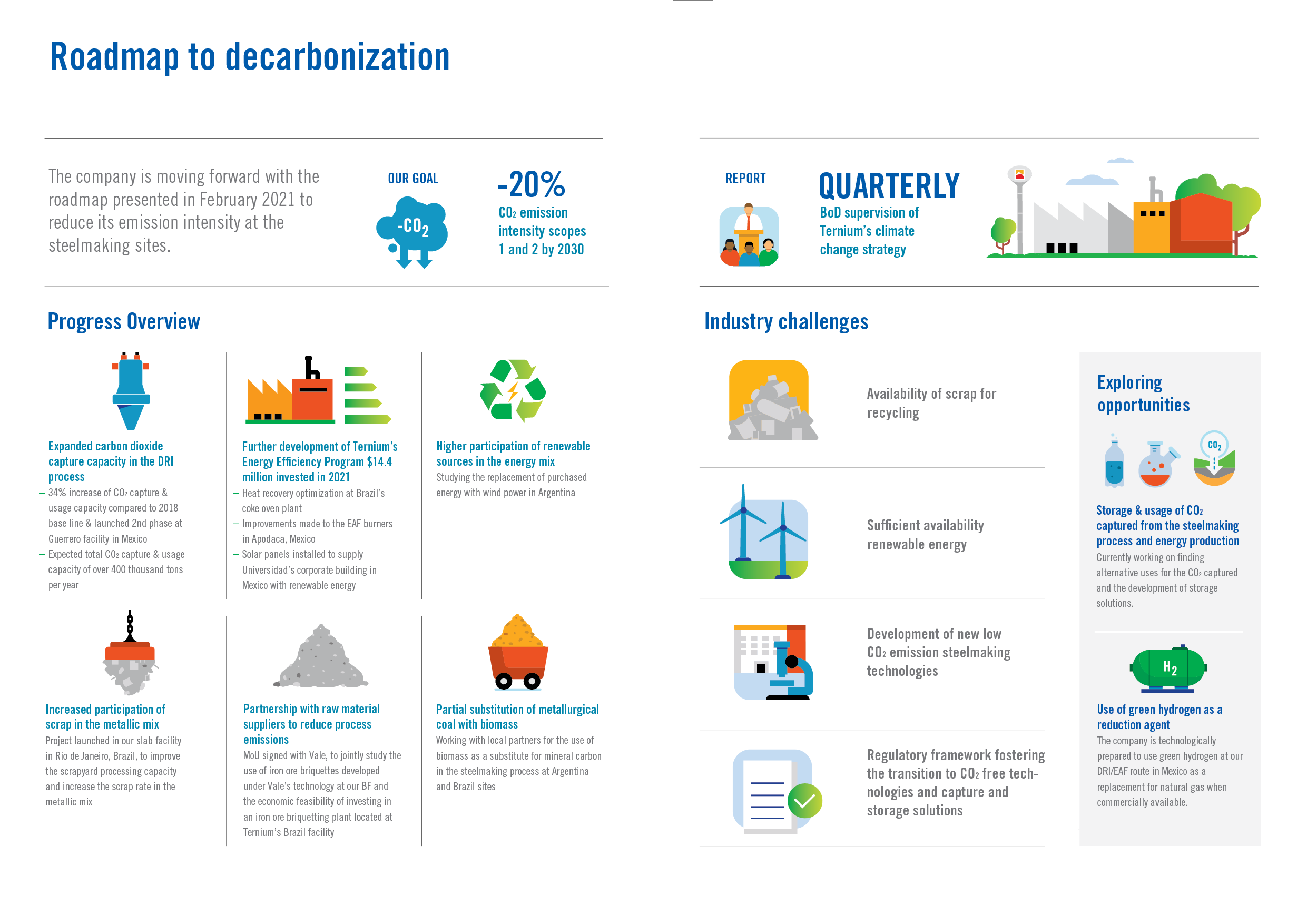 Optimizing scrap use
Steel scrap is first in line as a raw material to produce steel, as its use substantially reduces the CO2 emissions produced during the life cycle of the products; furthermore, it's infinitely recyclable as it does not lose its properties. At the slab plant in Rio de Janeiro, Brazil, a project is underway to improve and increase scrap processing capacity and increase its share in the metallic mix.
Improving the use of green energy throughout facilities
In 2021, 20% of the electricity purchased by Ternium was sourced from green energy, and the figure is expected to double by 2030. At the company's power plants in Brazil and Argentina, residual fuel gases recovered from steel production processes are being used, while the heat recovery boiler is utilizing the residual heat resources of flue gases from the coke oven.
In Mexico, there has been a 6% reduction in Scope 2 emissions in the energy generated at the company's power plant, compared with the energy drawn from the national grid.
Progress with the Energy Efficiency program
The program was launched in 2014 to identify ways of saving energy and develop projects specifically aimed at reducing energy consumption rates. So far, 475 projects have been implemented, leading to an annual reduction of some 430,000 tons of CO2.
In Mexico, improvements were made to the burners of the electric arc furnace at the Apodaca plant and 1,012 solar panels were installed to supply 90% of the energy used at the Universidad corporate building. An agreement was also signed with Mexico's Efficient Energy Use Commission (CONUEE) to implement a series of energy efficiency improvement projects at the Guerrero plant over the next three years.
Increasing CO2 capture and use capacity at direct reduced iron facilities (DRI)
In Mexico, the company has concluded the first phase of its project to increase CO2 capture and use capacity at the Guerrero and Puebla plants, taking this to 284,000 tons. The figure is expected to rise over the next two years following the launch of the second phase at the Guerrero mill.
The Techint Group's Energy Transition Directorate continues to lead research and development efforts into carbon capture, utilization and storage (CCUS) techniques at the source, to prevent CO2 from being released into the atmosphere from specific locations, such as chimneys.
Development of new products
As part of its contribution to the energy transition, Ternium is working to develop special steels for the following industries:
Renewable energy companies: developing high-quality structural steel to build wind turbines and galvanized steel for solar panel producers in Mexico and Argentina.
Automotive: researching extremely thin high-performance grade steels to manufacture electric cars at the new hot rolling mill in Pesquería, Mexico.
Building: designing sustainable coated steel coils that combine environmentally friendly components and energy-saving solutions.
Establishing strategic alliances with partners and suppliers
In 2021, Ternium signed a memorandum of understanding with Vale, the world's largest producer of iron ore, to research the use of iron ore briquettes in blast furnaces and develop the possibility of investing in an iron ore briquetting plant in Brazil. Work is also underway with local partners to substitute mineral coal with biomass for steelmaking processes at the company's mills in Argentina and Brazil.
At Ternium, we continue to work on developing innovative alternatives contributing to sustainability and environmental care. For more information about these initiatives, download the Ternium 2021 Sustainability Report here.